Sky Rocket Your Brand with Our SEM Services
In today's digital age, where search engines are proving an excellent resource for users to locate diverse information within a matter of minutes, it is also becoming an increasingly popular tool for business owners to increase their brand awareness and target potential customers. With an average user spending approximately 79 days researching a product before making a hefty purchase and 81 percent of these customers ending up buying the product, search engine users seem like a primary audience that any brand would want to target. And that's where SEM management and advertising comes into play. Our marketing specialists at TPR increase the visibility of your website and enhance performance considerably. How do they do it? Read along to find out!
How SEM Works
Since every search engine is built upon a particular code or algorithm, it is only a matter of finding the right strategy to decipher the code and improve rankings through advanced tactics, correct bidding, and an optimized marketing strategy. Our 5-step process unfolds in the following way: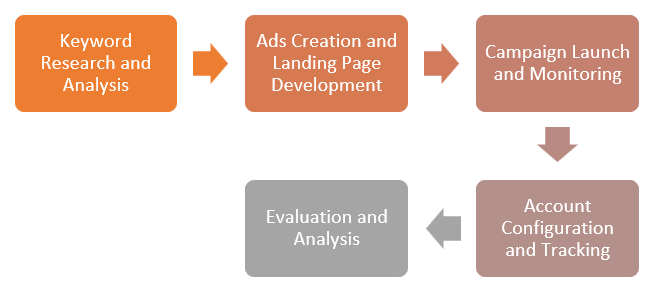 Why We Stand Out From the Rest
Transparent Consultancy
By providing you with all details in layman's terms, we not only achieve to keep you in the loop but also help you understand our business solutions and approach for your work.
Prompt Work
SEO and PPC require patience for fruitful results, and we understand that. That's why we start managing your search engine marketing campaign on the day you sign-up, thus guaranteeing rapid and productive results.
Dedicated Support
You will be assigned an SEM specialist who will answer all your questions and regularly brief you about the work progress (weekly and bi-weekly).
Realistic Commitments
Over-delivering is always better than under-delivering. With this understanding and approach, we always make realistic and calculated commitments that aim to exceed your expectations.
Pay for Work that Gives Results
Unlike other SEM companies, we don't charge our customers if they don't see an increase in their rankings or ROI. That's how confident we are with our SEM services!
Full Control
Having more control means a better sense of security and confidence. TPR is about giving power to the client as we report regularly and keep you in charge of all your online assets like search consoles, ad management, and local directory accounts.

Are you ready to grow your business?
Just Give us a Ring
support@orbitomarketing.com